Our
News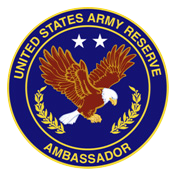 ​Dr. Gordon Sumner was recently appointed as an Ambassador to the US Army Reserve:
The Army Reserve Ambassador (ARA) Program was established in April 1998 for private citizens to promote awareness of the Army Reserve and the identified goals and objectives of the Chief of Army Reserve (CAR).
Army Reserve Ambassador's develop awareness and advocacy with community leaders and are vitally important bridges to communities across the Nation. They function at the state and local level and voluntarily represent the CAR without salary, wages or other benefits. Most beneficial is that they provide "continuity" over the long term; while local Army Reserve team leaders come and go, Ambassadors are vested in the community.

Their function is similar to that of Civilian Aides to the Secretary of the Army (CASA), and they carry a protocol status equivalent to a major general.

Army Reserve Ambassador's educate the public, community leaders and congressional staff offices about the capabilities and value of the AR and its Soldiers. They establish open lines of communication within these communities to help establish mutually supporting relationships with community leaders and community organizations. ARAs promote support for Soldiers and their Families during deployments and play an active role in facilitating community support through "welcome home" ceremonies and the Yellow Ribbon Program.
Previously, Dr. Sumner served as a presidential appointee under both President's Bush and Obama as the Nat. Ex. Director, National Committee for Employer Support of the Guard and Reserve.
​Gordon Sumner Consulting Awarded U.S. Food and Drug Administration Award: Gordon Sumner Consulting, ​a SDVOSB, ​with partner Redwood Enterprise, was recently awarded a 1 year FFP contract from the U.S. Food and Drug Administration to provide Diversity and Inclusion Consultants support. The GS Consulting Team will provide diversity consultant coaching to the senior level leadership with the FDA at the FDA HQ as well as locations/activities across the country. We will provide onsite executive level coaching in support of the Director, Office of Equal Employment Opportunity to identify specific gaps that require attention and support execution of the FDA diversity initiative.

The GS Consulting Team will also provide a review of various documents, regulations, and policies that support the D&I efforts within the FDA, and make appropriate recommendations to enhance and improve the overall OEEO's efforts to ensure the FDA is fully supported by an active, relevant and successful EEO and D&I environment.
Military order of the purple heart Sponsorship: Gordon Sumner Consulting sponsored a hole during the Department of Virginia, Military Order of the Purple Heart (MOPH) annual golf tournament held at The Pines Golf Course on Ft. Eustis, VA.
Pictured below from left to right: Jim Samuel, Commander, Department of VA, MOPH, Gordon Sumner, and Charlie Nuttle, Vice President, Essex Bank
DAI Solutions: Recently assisted DAI Solutions in their efforts to win a multi-million dollar, 3 year Period of Performance proposal to the Department of Defense by providing bid development support including solution strategy development, identifying key decision makers and hot buttons, making key introductions, identifying potential teaming partners, assisting in proposal reviews and providing SME services during any negotiations.
People of Distinction Humanitarian Award: Gordon Sumner was recently selected to receive the first annual "People of Distinction Humanitarian Award which honors those individuals, the "Unsung Heroes" who are helping our Human Family! The award will be presented Friday, November 8th, 2013 from 5:30pm to 9pm at the City University of New York Graduate Center, 365 Fifth Avenue, New York City (at 34th St.). According to Al Cole from CBS Radio, "The "People of Distinction Humanitarian Awards" will be one way of saying "thank you". Thank you for the industry, talents and high minded accomplishments of our "Unsung Hero" Awardees. Each of our "People of Distinction" Awardees will have gone that extra mile to have elevated the dignity of members of our Human Family. They may have quietly lifted a burden, planted a seed, which then allowed the potential of other human beings to thrive."
Contact
6904 Conservation Drive
Springfield, Virginia 22153-1009
Phone: 703-595-8800
Email: gordon@gsconsulting.com
DUNS #: 965003432
CAGE CODE: 65ZH7
TIN/EIN: 273528995
NAICS: 541311, 541612, 541613, 541820, 561210, 424210, 423450
Tell A Friend